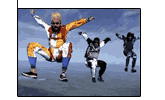 AIRPLANE
The "école de parachutisme de Château-d'Oex" use a "classical" plane for dropping skydivers, the Pilatus Porter PC6 B2/H4.
This single-engined turboprop, equiped with a Pratt & Whitney PT6A-27 turboprop engine of 650 hp, can climb 10 skydiver at 4'000 m/gnd in a little less than 20 minutes.
Its wide sliding door, its large step and its interior bar are particularly appreciated for all kinds of exit.